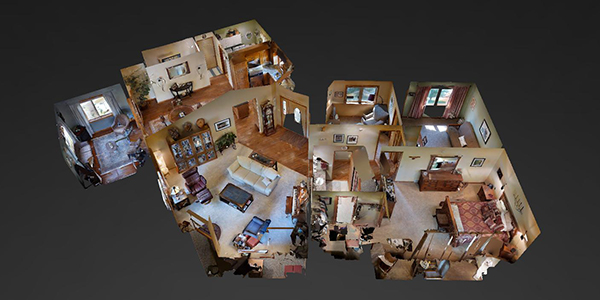 A Full 3D Real Estate Experience
It can be hard to get prospective real estate buyers to come in for a tour or spend time physically checking out a listing that they're not quite sure about. To assist in this process and to cater to prospects who may be limited in their ability to perform an on-site walkthrough, 360 Real Estate Image LLC is pleased to provide 3D imaging on an encompassing scale!
More than just a convenience for people looking to experience a home's interior, an interactive 3D tour of a home is a standout feature that can quickly garner the intrigue of just about anyone viewing your listing! Combining pictures and a 3D virtual tour can connect the dots to provide an encompassing, interactive picture of exactly what a home has to offer.
Going above the standard
3D imaging isn't something that run-of-the-mill real estate photography services in Saint Cloud, MN can provide, however: it needs to be approached and executed by a professional with the right resources and experience to make sure the finished product is capable of everything it needs to be. For this reason, there's no better choice than 360 Real Estate Image LLC.
Equipped with a state-of-the-art 3D Matterport Camera that allows us to render comprehensive 3D images of any property's interior, our professionals will quickly get to work in capturing a property from top to bottom. When we're done, we'll assemble everything into a work of art that's as beautiful as it is helpful to people viewing your online listing. This is one real estate photography service in Saint Cloud, MN that's sure to liven up your listing in an undeniable way!
3D real estate tours in Saint Cloud, MN are one of the simplest, most profound things you can do for your listings because it opens a gateway for someone to truly experience a property, rather than just pass by it while browsing online. In giving people a bird's eye view into the layout and intricacies of a home, you're opening the door to a more in depth conversation about buying that space.
Start the tour online
If you're in the habit of giving potential buyers a full, upfront view of everything a property has to offer, a 3D real estate walkthrough is a must-have for your listing. 360 Real Estate Image LLC is here to make your listing stand out from the pack by imaging and compiling a home's interior to deliver a final picture that's enough to captivate onlookers and garner serious inquiries from enthralled buyers.
For more information about how you can compile a virtual, 3D walkthrough of a home, please contact us today by calling 320-250-8712!
3-D Tour
---
3-D Tours are also available for your business!